The Amgen Biotech Experience is 30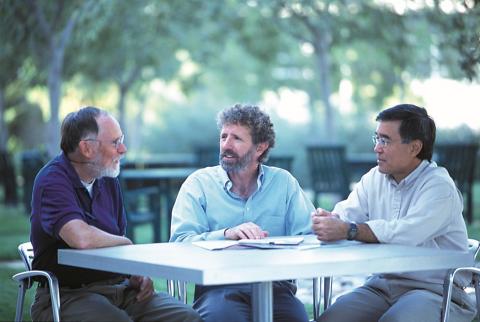 High school teacher Hugh Nelson, Amgen scientist Bruce Wallace, and Professor Marty Ikkanda in Thousand Oaks California who together established the Amgen Biotech Experience in 1990.
The Amgen Biotech Experience is celebrating its 30th anniversary this month. Since 1990, ABE has empowered secondary school science teachers around the world to implement real-world biotechnology labs in their classrooms, providing teacher training, curriculum materials and research-grade equipment at no cost. Nearly 850,000 students have experienced hands-on biology education through ABE to date, with 3,700 teachers in 1,600 schools worldwide participating.
The ABE Ireland programme is hosted by Systems Biology Ireland in UCD, close to Amgen's Dun Laoghaire base. Since our launch in 2014 we have reached more than 12,000 students in 113 schools, working with 190 teachers.We asked some of these teachers to tell us the difference ABE has made in their schools.
Dr Michele Morris, teacher, Kilkenny College told us, "I have been availing of the ABE DNA profiling equipment programme for a number of years. My students love it. It never fails to stimulate questions and interest. The training and support that I have received from ABE has been excellent. The new specification for Leaving Certificate Biology has greater emphasis on the detail of DNA profiling and this programme will be of great benefit to teachers. Here's to another 30 years."
Kate O'Toole from Rockford Manor Secondary School, Co Dublin said, "As a teacher the Amgen Biotech experience has been invaluable on so many levels with my own professional development as well as aiding and motivating my students in their interest in science and motivating them to take STEM subjects"
Hilary Rimbi from St Andrew's College, Co Dublin told us, "ABE gives students an experience of modern biology. It is hands-on and gives the students a great sense of achievement in gaining new skills such as micropipetting and analysing a profile. It would be impossible for many schools to do these investigations without ABE. The provision of the equipment and protocols is really appreciated, as without them most of our students would not have experienced these valuable activities."
In response to the Covid-19 pandemic this year, the ABE programme was able to use the LabXchange platform to continue to offer education and training to teachers and students. LabXchange is a partnership between the Amgen Foundation and Harvard University, students, regardless of income, race, gender or geography, can continue to experience the world of biotechnology with virtual ABE labs, free of charge. To make the program even more accessible to learners across the world, the ABE virtual labs will be available in 11 additional languages later this Autumn.
The Amgen Foundation has just announced that it will fund the ABE programme for a further three years with an investment of $16.4 million. This new funding brings the Amgen Foundation's total commitment to the program to over $40 million. The additional funding will increase the overall reach of the program to over 1 million students.
"Quality science education is more critical than ever, from battling pandemics to tackling climate change," said Eduardo Cetlin, President of the Amgen Foundation. "The next generation of scientists hold the future of humanity in their hands. The Amgen Foundation's mission is to inspire that generation to embrace science and the possibilities it provides."