Jan 2020 blog Delivering an ABE Workshop as part of the iWish Campus Programme
Delivering an ABE Workshop as part of the iWish Campus Programme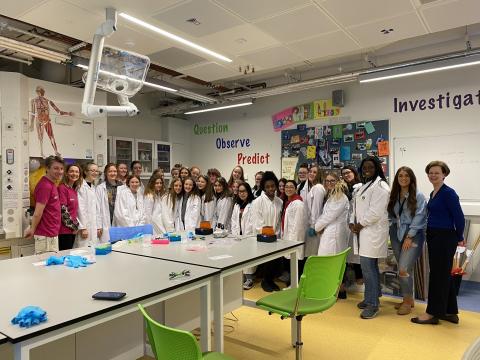 iWISH participants in UCD
During the iWish campus week based in UCD, ABE was asked to provide a morning workshop for 30 girls from four schools in Dublin.
The girls took part in an 80 minute workshop doing Lab 1 Micropipetting and Lab 2 DNA Profiling. The girls in the group were very enthusiastic about pursuing science after school, but some had questions about how to get there.
After the samples were loaded, the gels were running, and they were eagerly awaiting to discover who robbed the jewelry shop, the girls were able to ask about our own pathways into science. We shared with them which subjects we did for the leaving certificate, what courses we listed on our CAO forms and what we studied in college to get to where we are now. They were also keen to find out what a typical day at the laboratory bench is like and other information they may not have been able to find anywhere else.
After their morning with the ABE Ireland team, the girls spent the afternoon visiting Amgen Dun Laoghaire.
The UCD iWish campus week was organised in conjunction with Professor Patricia Maguire, Director of UCD Institute for Discovery and coordinated by science communicator and broadcaster, Philip Smyth.