Apr 2020 blog ABE Workshop for NIBRT Transition Year Programme Participants
ABE Workshop for NIBRT Transition Year Programme Participants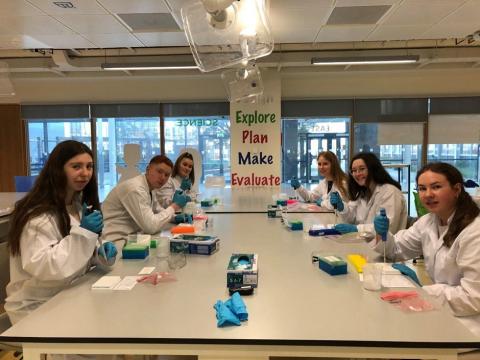 NIBRT transition year students carrying out ABE lab
We were delighted to work with our partners in the National Institute of Biotechnology Research & Training (NIBRT) to facilitate a visit to the ABE Ireland site in University College Dublin by 6 pupils on the 2020 NIBRT Transition Year programme.
The 6 pupils who hailed from across Ireland dropped in the Kilty outreach suite in UCD O'Brien Centre for Science first where we delivered a condensed workshop (Lab 1 & 1a: micropipetting). With their micropipetting skills already en-pointe after a few days at NIBRT, they were quickly up for our new 'picture in a 96 well plate' challenge! And they thought that their classmates would love this activity. Thumbs up!
We then brought them across for a tour of the centre of ABE Ireland site operations; Ann-Marie's laboratory bench in Systems Biology Ireland. Ann-Marie had prepared and ran samples from Lab 2 DNA profiling, Lab 3 DNA restriction, and Lab 4 DNA ligation and talked through the theory of the labs with the students. Earlier that week, the students had learned about the theory behind tissue culture and scale-up in NIBRT so this really resonated with them. The group were then given a tour of the tissue culture laboratory of Dr David Gomez (cancer biology, precision medicine) in Systems Biology Ireland.