Mar 2020 blog Junior Cycle for Teachers STEAM workshop
Junior Cycle for Teachers STEAM workshop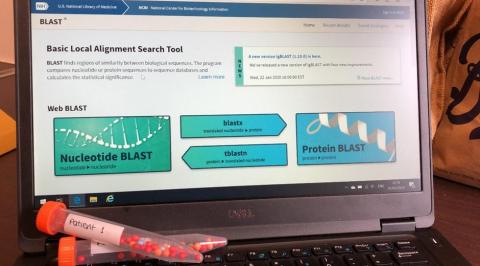 JCT exercise
The ABE Ireland team were delighted to partner again this year with the Junior Cycle for Teachers Support Service led by Aine Woods and her team. The global theme for STE(A)M in Junior Cycle 2020 is 'SOLUTION GENERATION' and the premise is to empower young people to think, choose and innovate in ways that will enhance and sustain our communities into the unknown tomorrow.
We developed a 90-minute CPD workshop for teachers to explore the use of technological advances such as bioinformatics, computational modelling and CRISPR and how they can help to reduce wasteful practices in biotechnology.
We gave an overview of each of the technologies, their capabilities and application within the laboratory. There was a hands-on activity and discussion points for each topic. Teachers had to figure out the animal origin of specific DNA sequences found in a sausage using an online bioinformatic database. They also decided the best drug combinations to use for a patient based on the quantity of specific biomarkers identified in their blood sample. Using scissors and tape, teachers found single mutations in DNA sequences and replaced them with the correct version.
The second partner providing a workshop on this themed day (Technology, Research & Innovation: Choices for the Future) is ADAPT centre. ADAPT focuses on developing next generation digital technologies that transform how people communicate.
Teachers attending the workshops in Drumcondra Education Centre (01 February) and Navan Education Centre (29 February) were very positive in their feedback for the event. Unfortunately, scheduled workshops for Carrick-on-Shannon (21 March) and Kilkenny (28 March) were cancelled due to COVID-19 crisis.
We intend to implement aspects of this workshop within our teacher training workshops as additional resources and activities for the classroom.