ABE Teacher Roundtable
11 Apr 2022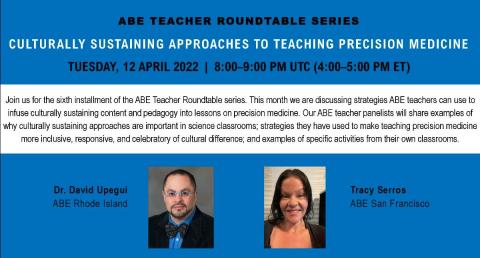 All ABE Teachers are invited to join the ABE Teacher Roundtable series, in which panelists from ABE sites around the world discuss topics of relevance to the ABE community.
On Tuesday, April 12th 2022, Dr. David Upegui from ABE Rhode Island and Tracy Serros from ABE San Francisco will discuss culturally sustaining approaches to teaching precision medicine. You can register for the event at this link.
Further events will happen on the 10th of May (Citizen Science and ABE) and on the 7th of June (Virtual Learning in the Science Classroom).