SITE DIRECTOR
Mr Akash Dusrath
SENIOR SCIENCE CENTRE MANAGER AT SCI-BONO DISCOVERY CENTRE
Akash is a highly experienced science professional and the Senior Science Centre Manager at the prestigious Sci-Bono Discovery Centre, Southern Africa's largest science center. Equipped with a Bachelor of Science degree in Microbiology and Biochemistry, he boasts over a decade of extensive experience in the Science Centre industry.
Akash's expertise in Science Communication has not only led him to manage projects nationwide but has also earned him recognition through prestigious awards and fellowships. Notably, he received the Australia Award Fellowship in Science Centre Leadership in 2017 and the Sustainability in Science Museums Fellowship from Arizona State University in 2018.
Beyond his managerial role, Akash has actively contributed to the South African Association of Science and Technology Centres (SAASTEC) since 2012, holding significant positions, including Deputy Chairman on the Board of Directors from 2018 to 2021.
His commitment to STEM education is further evident in his leadership roles in projects funded by prominent organizations such as the Embassy of Denmark and UNICEF, in collaboration with the United Nations Development Programme. These initiatives aim to empower learners, particularly girls, by providing practical skills and innovative ideas to address climate change challenges through programs involving IoT, STEM, and Robotics.
Akash's impactful career showcases a steadfast dedication to advancing STEM education while addressing critical global issues. His leadership, expertise, and innovation have played vital roles in shaping South Africa's STEM landscape.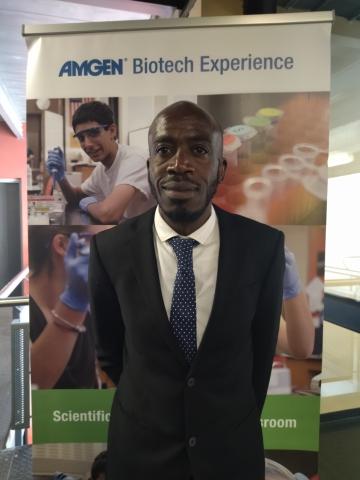 PROGRAMME MANAGER
Mr Zibusiso Nyoni
LAB TECHNICIAN AT SCI-BONO DISCOVERY CENTRE
Zibusiso Nyoni is a dedicated professional with over a decade of experience in Science Communication and STEM education. His journey began as a Life Sciences teacher following the completion of a BSc in Microbiology and Biochemistry at the University of Fort Hare, coupled with a PGCE from Unisa.
In 2011, Zibusiso transitioned into informal education, joining Sangari as a Science Facilitator. In this role, he trained teachers on mobile lab kits and conducted workshops.
Zibusiso's passion for Science Communication led him to the Sci-Bono Discovery Centre in 2012, where he started as an intern. His dedication and enthusiasm quickly propelled him into the role of a Science Communicator. Tasked with establishing and nurturing the Dow lab brand, Zibusiso introduced more than 20,000 learners in Gauteng to hands-on experiments in Chemistry, Life Sciences, and Physics.
In 2015, Zibusiso assumed the role of a lab technician at the Sangari Life Sciences Lab, where he oversaw day-to-day operations and conducted practicals for over 25,000 individuals. To further enrich his skills, he pursued a specialized course in Science Communication at Stellenbosch, solidifying his foundation in educational outreach.
Zibusiso's commitment to STEM education is not only evident in his professional roles but also in his relentless pursuit of knowledge. His dedication to lifelong learning and passion for imparting knowledge earned him recognition at Scifest Africa 2022, where he was awarded 3rd place for the best exhibition.
Beyond his current achievements, Zibusiso aspires to further his education by pursuing postgraduate studies in science education. His ultimate goal is to continue shaping a brighter future through his unwavering dedication to enhancing scientific education and exploration for the benefit of future generations.