October 2019 Post - Cuala Academy Day
Cuala Academy Day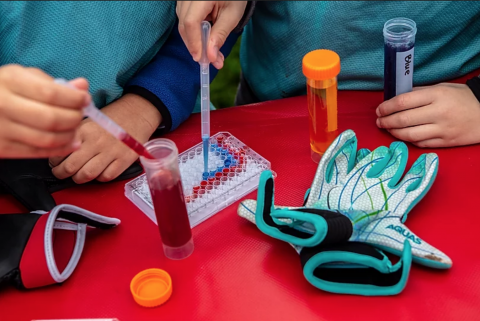 The Amgen Biotech Experience Ireland team were invited to take part in an academy coaching morning (https://www.cualagaa.ie/coaching-morning-for-academy/) with Cuala Gaelic Athletic Association (GAA) club on Saturday, 05 October, 9am–12.30pm on the Thomastown pitches.
There were 600 children aged 6–9 years old registered for the event and braving the elements on a fresh Autumn morning. The ABE Ireland team introduced pipetting skills to this young audience using food dyes and plastic bulb pipettes in a modified sun-catcher activity.
Cuala, the second largest GAA club in Ireland, are partnering with American biotechnology company, Amgen in a three-year sponsorship that includes the first ever player employment and education incentives.
Amgen's support of Cuala will include an annual education bursary and mentoring for the bursary recipient, a guaranteed place on their coveted 8 month paid Internship programme as well as funding the preparation of all the club's adult football and camogie teams. This includes five adult men's football teams, three adult women's football teams and three Camogie teams.

Pictured (l-r): Fiona Waters, ABE Public Engagement; Amgen Vice President of Regional Manufacturing, Alan Harmon; Elaine Quinn, ABE Site Director; student volunteers Ben and Sam Lynch; and Ann-Marie Barry, ABE Technical Support.