Welcome to the
Amgen Biotech Experience – United Kingdom
Scientific Discovery for the Classroom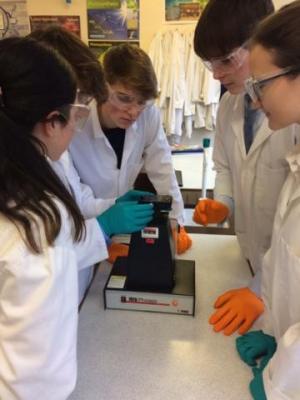 The Amgen Biotechnology Experience (ABE) is designed to enrich and extend biology learning and teaching, particularly for students ages 14–18, through the experience and excitement of real-world bioscience.
University of Hertfordshire coordinates the ABE-UK programme, which provides continuing professional development (CPD) for biology teachers and school science technicians, followed by the free loan to schools of research-grade laboratory equipment and detailed Teacher and Student Guides. Suggested student activities are mapped to the English national curriculum and examination specifications. Some activities can be carried out by students ages 11–14.
Our CPD develops participants' knowledge of biotechnology theory and practical skills, including restriction enzyme digestion, ligation reactions and agarose gel electrophoresis, bacterial transformation, DNA profiling, and PCR (polymerase chain reaction). The CPD is practical—offering firsthand experience of activities that students will undertake. Participants explore teaching approaches that can help students to understand how biotechnology impacts people's lives
Our programme is delivered through three hubs, located at Norwich, Cambridge, and Hatfield, which host CPD and support schools with kit loan.
To learn more about ABE United Kingdom and for dates of upcoming CPDs, please visit our local website.

We also invite you to visit the ABE Program Office site for more general information about the whole ABE program.