A twinning for Scientific and Educational benefit
A Twinning for Scientific and Educational Benefit
16 Dec 2019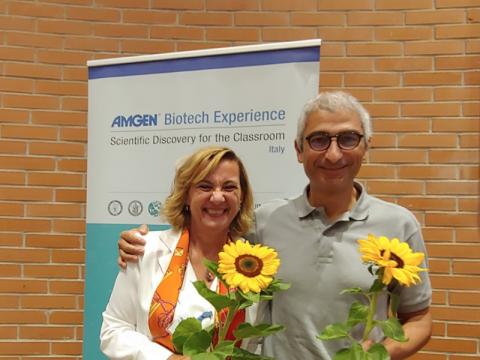 Anna Pascucci and Alain Bessis
The ABE project is jump-starting a series of intercultural exchanges between Italy and France.
The process was started by the directors of the ABE sites Italy (Anna Pascucci) and France (Alain Bessis), who visited each other's country's ABE site in order to experience and uderstand how the ABE project is implemented in different realities.
According to Alain Bessis, the exchange between students and teachers from different countries is fundamental: "It could open up entirely new views of science".
Anna Pascucci is already putting these exchanges to use in order to improve the ABE experience in Italy, noting for example that in France the project is constantly supported by specialized laboratory technicians and the Ministry of Education.
Next year, the twinning will be extended to teachers from both sites, and eventually to students as well.
Read more (in English): https://www.amgenbiotechexperience.com/twinning-scientific-and-educational-benefit